Gluten and Neuro-Degenerative Disease
A case of celiac disease mimicking amyotrophic lateral sclerosis.
Turner MR, Chohan G, Quaghebeur G, Greenhall RC, Hadjivassiliou M, Talbot K. Nat Clin Pract Neurol. 2007 Oct;3(10):581-4.
Department of Neurology, John Radcliffe Hospital, Oxford, UK.
BACKGROUND: A 44-year-old male presented to a general neurology clinic with a 6-month history of progressive right-sided spastic hemiparesis without sensory symptoms or signs. The thigh muscle in the affected leg showed signs of wasting. The patient had a remote family history of celiac disease.
INVESTIGATIONS: Neurological examination, neurophysiological studies, brain MRI scan, routine blood tests, duodenal biopsy, cerebrospinal fluid analysis including polymerase chain reaction test for JC virus DNA, serological testing for HIV and for the presence of serum antibodies to endomysium, gliadin and tissue transglutaminase.
DIAGNOSIS: Celiac disease with neurological involvement, mimicking amyotrophic lateral sclerosis.
MANAGEMENT: Strict gluten-free diet.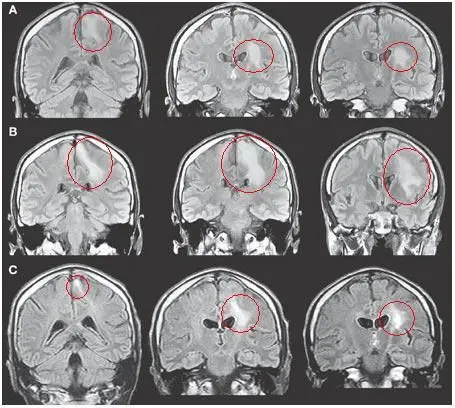 MRI Scan
The patient developed signs/symptoms of ventral horn cell disease, and a complete workup was performed. Numerous diagnostic tests were obtained including the above MRI scan of the brain. You can see the abnormal findings that appear as a lighter shade of gray within the red circles.
An MRI was repeated 2 months later that revealed even more extensive changes to the subcortical region of his brain with additional damage.
More diagnostics were performed and it was discovered that this patient had celiac disease. The patient started on a gluten-free diet approximately 7 months after the initial onset of his symptoms. MRI "C" was taken after the patient was on a gluten-free diet for 9 months. No other treatment of medication was provided. This repeat MRI shows partial resolution of the initial lesion. Some of his function returned to normal, while other functions had limited improvement because of permanent damage that was done. This patient was followed for another 2.5 years with no evidence of neurological relapse.
Lou Gehrig Loved Wheaties
Lou Gehrig was the first athlete to be pictured on the Wheaties box. Lou Gehrig also died of ALS (amyotrophic lateral sclerosis), which is commonly known as Lou Gehrig's disease. What if he had a gluten sensitivity?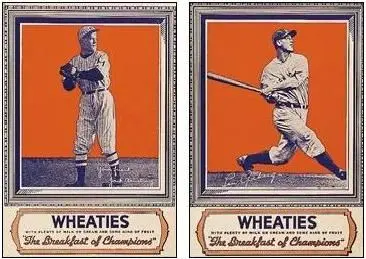 (Reference: Datis Kharrizian, 2010-Mastering the Thyroid)